"
It's happening again. The amount of margin debt balances at New York Stock Exchange member firms fell to $473,412 billion in August, down 2.9% from September. It is the 2nd consecutive monthly decline and the first back-to-back monthly drop since December-January.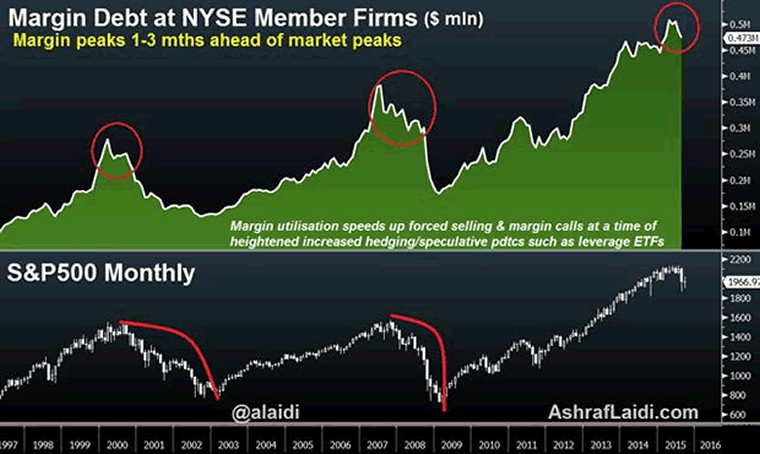 The importance of these figures is highlighted by the historical relationship between peaks in margin debt, and tops in the stock market, typically measured by the S&P500.
Margin calls & forced selling
As markets enter the early stages of a rally, smart money (hedge funds, index funds) usually leads the ascent until it is joined by retail players to trigger the next buying wave. As the rally sustains itself to higher levels, existing and new payers add on to positons with varying use of leverage (buying on margin). Once markets peak out and/or start to pull back, buyers on margin are obliged to close or pare long positions as margin calls creep in. Clients' losses at member firms escalate especially as soaring volatility triggers the cascading of stops, prompting further market downside.
The high correlation between margin debt and equities reflects the increasing use of debt in purchasing stocks by institutional and retail investors, shedding important light on the circular loop between price performance and the use of margin debt.
1-3 month lags
July 1998 - The stock market top of July 1998 coincided with the peak in margin debt before the decline was propagated by the EM fallout & LTCM collapse.
March 2000 - The peak in margin debt of March 2000 coincided with the market high in the S&P500 right before the burst of the dotcom bubble, which was intensified by a new generation of margined trading, made easy by online trading.
July 2007 - The peak in margin debt of July 2007 occurred three months prior to the pre-crisis top in the market.
The 1-month lag has reappeared as the latest margin debt figures show leverage has fallen 7% from its April peak -- one month prior to the record high in the S&P500 and the Dow..."
at http://www.marketoracle.co.uk/Article52389.html